Insert Magnet
Product Detail
Product Tags
Just same as the pot magnet, the insert magnet consists of a ring NdFeB magnet, steel casing and threaded rod. The steel casing protects Neodymium magnet from outside damage and concentrates the magnetic forces of the encased Neodymium ring magnet to the contacted surface only to generate much higher force than a separate Neodymium magnet. However it has some different points from the pot magnet so as to meet the application requirement in precast concrete. The shape of the steel casing is tapered and the threaded rod is interchangeable so that the insert magnet is convenient to detach from the hardened concrete through the socket wrench.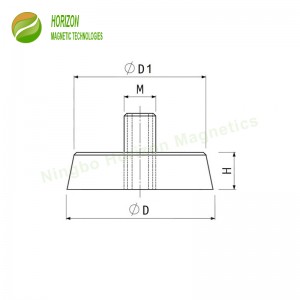 1. Material: Neodymium magnet with high performance and grade + Steel casing and rod
2. Coating: Magnet coated with NiCuNi or Zinc + steel casing coated with Zinc or Copper
3. Size and force: Referring to Technical Data
4. Package: Packed in corrugated cartons. Cartons packed in wooden pallet or case for large quantity
1. Magnetic power and unique design and structure enable light and easy to operate.
2. It is reusable and durable to save cost shared in long term.
3. It is quick to position and improve efficiency and cost.
4. It can improve quality of precast concrete elements.
5. Magnet power is high enough to position and fasten the embedded components accurately during concrete casting or vibrating process to enable safe lifting operation.
1. Unbeatable know-how in Neodymium magnet, the most important component to ensure insert magnet quality
2. Knowledge in magnetics and in-house fabricating helping customers realize customers' products from the concept to final magnetic products conveniently
3. More styles and sizes available to save tooling cost and product price for customers
4. Standard sizes in stock and available for immediately delivery
5. Complete supply of precast concrete magnets including shuttering magnets, magnetic chamfers and custom-made magnetic products to meet customers' one-stop purchase
Part Number

D

D1

H 

M

Maximum Operating Temperature

mm

mm

mm

mm

°C

°F

HM-IN45-M8

45

40

8

8

80 

176 

HM-IN45-M10

45

40

8

10

80 

176 

HM-IN54-M12

54

48

10

12

80 

176 

HM-IN54-M16

54

48

10

16

80 

176 

HM-IN60-M20

60

54

10

20

80 

176 

HM-IN77-M24

77

73

12

24

80 

176 
1. Avoid grout covering surface of the encased Neodymium magnet to keep magnetic force.
2. Operate or store the insert magnet below 80℃. Higher temperature may cause the magnet to reduce or totally lose magnetic force.
3. It is highly recommended that gloves should be worn to protect operators' hands from pinching on impact. Please keep it far away from electronic instruments and unnecessary ferromagnetic metals. Special caution should be exercised if someone is wearing a pacemaker, because strong magnetic fields can damage the electronics inside pacemakers.
---
Previous:
Rubber Coated Magnet with Female Thread
Next:
Magnetic Chamfer
---