Rubber Coated Magnet with Female Thread
Product Detail
Product Tags
It is composed of several strong Neodymium disc magnets, steel plate, and protective rubber covering steel plates and Neodymium magnets, except the threaded hole. The several pieces of small disc Neodymium magnets arranged on the same plate steel makes the NdFeB rubber coated magnet with powerful magnetic field on one side. The Neodymium magnets are covered and protected by the rubber from corrosion. The internal thread is easy to attach with a hook, eye bolt, etc, and then it can work as hook magnets to hang objects on the metal body, where the surface needs scratch free.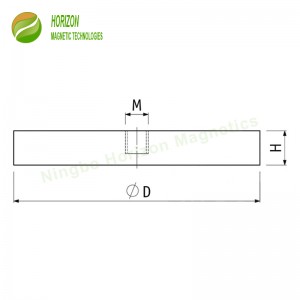 1. Holding via magnetic force without drilling, adhesive, etc.
2. Protective rubber and several arranged small disc Neodymium magnets provide a higher slip resistance and avoid sharp scratch or damage to the expensive or delicate contacted surface.
3. Portable and easy to install.
4. Internal threaded hole is universal to mount objects.
5. In some corrosion environment, NdFeB rubber coated magnet can work long time without rusting caused to Neodymium magnets inside.
1. Neodymium magnet is produced by us, and its quality and cost are under control.
2. Many products are in stock and available for immediately delivery.
3. Custom-made solutions are available upon request.
4. Comprehensive magnet and magnetic products, and in-house fabricating capability meet one-stop shopping need of magnetic products.
Part Number

D

M

H

Force

Net Weight 

Maximum Operating Temperature

mm

mm

mm

kg

lbs

g

°C

°F

HM-G22

22

4

6

5

11

12

80

176

HM-G34

34

4

8

7.5

16.5

22

80

176

HM-G43

43

4

6

8.5

18.5

29

80

176

HM-G66

66

6

8.5

18.5

40

100

80

176

HM-G88

88

8

8.5

43

95

186

80

176
---
Previous:
Rubber Coated Magnet with External Stud
Next:
Insert Magnet
---