Shuttering Magnet
Product Detail
Product Tags
1. Material: Neodymium magnet with high performance quality and grade + Low carbon steel
2. Surface treatment: Zinc, Ni+Cu+Ni, or epoxy for Neodymium magnet + Zinc, paint or other required technology for steel case
3. Package: packed in corrugated carton and then cartons packed in a wooden pallet or case. One, two, three or other pieces based on the size per corrugated carton
4. Lifting lever: Lifting lever free of charge when order quantity of shuttering magnet is large and easy to ship together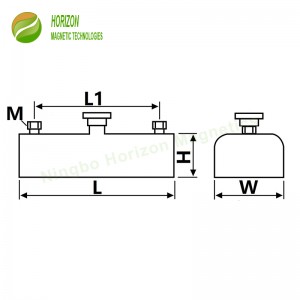 1. Precast plants with stationary production system to produce precast concrete elements, like floor slabs or double walls
2. Precast factories to produce some complicated or small openings, like doors or windows needing several shuttering magnets to fasten the formworks
3. Precast companies to produce some special shapes of PC elements for example radius, needing several small shuttering magnets rather than a longer shuttering system to profile the formwork
4. Any companies except precast industry who think the shuttering magnet may meet their requirement about high holding force and easy operating
1. Versatile with almost all materials of the formworks, for example wood, steel or aluminum
2. Same magnet to meet different purposes in fastening formworks
3. More sizes and force ranging from 450 Kg to 3100 Kg to meet your diverse requirement
4. Compact size, light and easy to operate
5. Simple and exact positioning
6. Avoid welding or bolting to the formwork table therefore preserving surface finish
7. Two threaded holes integrated to adapt the formwork
Press the switchable button on top of the steel casing to turn on magnetic force to fasten the formwork to the steel table tightly. Use the lifting lever to pull up the button to turn off the magnetic force to move and position shuttering magnets and then adjust the formworks. Sometimes, use two threaded holes integrated on the top of the shuttering magnet to attach various adapters, so as to meet unlimited application requirement.

1. Unrivaled competitive strength in the most important component, Neodymium magnet, because Horizon Magnetics are originating from and still in Neodymium magnet manufacturing
2. Confident in quality and to accept terms of payment like 100% T/T after customers' receipt of our shuttering magnets
3. Complete supply of precast concrete magnets like magnetic chamfers, insert magnets, and in-house machining capabilities to produce custom-made magnetic products to meet customers' one-stop purchase

Part Number

  L

L 1

H

M

W

Force

Maximum Operating Temperature

mm

mm

mm

mm

mm

kg

lbs

°C

°F

HM-MF-0900

280

230

60

12

70

900

1985

80

176

HM-MF-1600

270

218

60

16

120

1600

3525

80

176

HM-MF-2100

320

270

60

16

120

2100

4630

80

176

HM-MF-2500

320

270

60

16

120

2500

5510

80

176

HM-MF-3100

320

270

60

16

160

3100

6835

80

176
1. The inside array of Neodymium magnets must be kept clean. Avoid concrete going inside the shuttering magnet so as to ensure rated force remained and switchable button operated flexibly.
2. After use, it should be kept clean and oiled so as to be protected from corrosion.
3. The max operating or storage temperature must be below 80℃. Higher temperature may cause shuttering magnet to reduce or totally lose magnetic force.
4. Although almost no magnetic force is felt outside the steel casing of the shuttering magnet, the magnetic force in the activated side is too strong. Please keep it far away from electronic instruments and unnecessary ferromagnetic metals. Special caution should be exercised if someone is wearing a pacemaker, because strong magnetic fields can damage the electronics inside pacemakers.
---
Previous:
Neodymium Pot Magnet with Hook
Next:
3M Adhesive Magnet
---