Colorful Magnetic Push Pin
Product Detail
Product Tags
The structure seems very simple, but it plays a great role in various fields. It consists of two parts: Neodymium disc magnet and plastic housing. Neodymium magnet is the strongest type of permanent magnet in mass production on the planet at the moment. And it is mainly used in high end fields like electric motors, sensors or loudspeakers, but it is also used in our daily magnetic push pins. The housing encases and protects Neodymium disc magnet from chipping or damaging outside. The housing material is environmental plastic, and the smooth shape enables users to use, position and remove.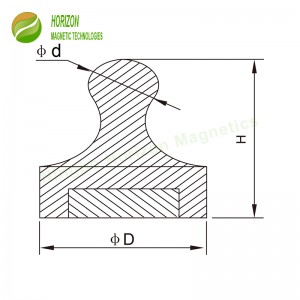 1. Safe: The traditional pins cause holes to your documents and objects during fastening and the sharp tip of the pin might hurt your skin. The magnetic push pin does not have this side effect.
2. Strong: The powerful Neodymium magnet can general higher holding force than traditional pins to hold notes, photos or other similar documents tightly and conveniently to refrigerators, magnetic boards, file cabinets or other similar metal surfaces whether it is almost difficult to use via traditional pins.
3. Pretty: The housing with designed shape, smooth and bright appearance looks beautiful and delicate.
4. Color management: The magnetic push pins with assorted colours make it easy for your planning and process management via color management, which is an important part of the 6S management.

1. Magnet material: Neodymium magnet coated
2. Coating: Nickel-Copper-Nickel triple layers which is maximum protection against corrosion
3. Housing material: environmental plastic
4. Shape and size: referring to drawing and size specification
1. The most important part, Neodymium magnet is produced by us, which can ensure the quality and cost of magnetic push pin under control.
2.Many finished products in stock to ensure a just-in-time shipment.
3. In-house production capability ensures one-stop shopping of comprehensive magnetic products.
Part Number

D

H

d

Force

Net Weight 

Maximum Operating Temperature

mm

mm

mm

kg

lbs

g

°C

°F

HM-OP-12

12

20

7

0.8 

1.5 

4 

80

176

HM-OP-19

19

25

10

1.5 

3.0 

8 

80

176

HM-OP-29

29

38

12

2.3 

5.0 

20 

80

176
---
Previous:
Servo Motor Magnet
Next:
Magnetic Name Badge
---