Single Sided Fishing Magnet
Product Detail
Product Tags
1. Main material: Powerful Neodymium rare earth magnet with higher grade + A3 steel
2. Excellent corrosion resistance: The eyebolt is 304 stainless steel; the built-in NdFeB magnet and A3 steel cup are coated with shiny three layers of Ni+Cu+Ni, which has good resistance to salt spray test. Therefore the special material and surface treatment ensure the fishing magnet difficult to rust or damage so as to last a durable use in dirty canals or even salty sea.
3. Multi-use: This single sided fishing magnet is perfect for outdoor magnetic fishing, searching, retrieving, salvaging and seeking underwater for something old and mysterious, especially simple dropping straight down from docks, bridges or wells. Besides the magnetic fishing, it can be used to lift, hang, hold, fix, position your home or industrial ferromagnetic items like screws, fasteners, hooks, tools or anywhere you need incredibly strong pulling force.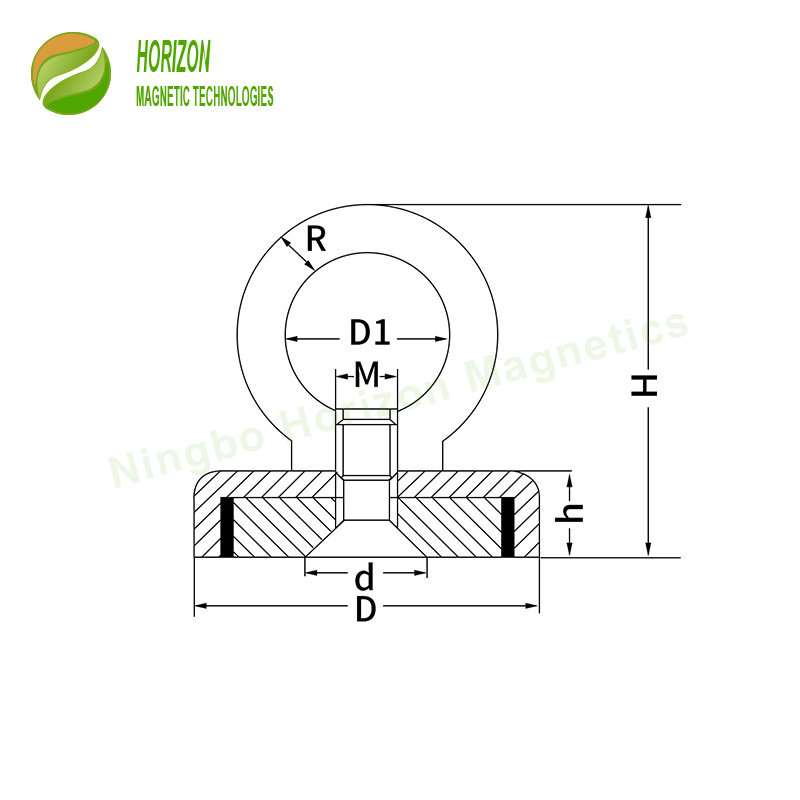 1. High quality: NdFeB magnet, the most critical component is produced by our own factory and does not contain special low quality rare earth materials, which ensures magnet quality.
2. Short delivery time: We are medium sized company, which lets us coordinate efficiently between our different departments and give a fast feedback to customers. In-house production and machining capacity ensures short delivery time and even just-in-time delivery for some fishing magnets.
3. One-stop purchase: More size options are available. Besides this single sided fishing magnet, we still have double sided fishing magnet, pot magnets and other magnetic products. Moreover, our in-house production and fabrication enables customized options for customers conveniently. We can meet your simple one-stop purchase.
4. Magnet fishing kit: The complete fishing kit is available including grappling hook, high strength Nylon rope with carabiner, non-slip rubber gloves, one set packing, etc. It will make you an easy B2C sale like on Amazon directly.
Part Number

D

d

D1

R

H

h

M

Force

Net Weight 

Maximum Operating Temperature

mm

mm

mm

mm

mm

mm

mm

kg

lbs

g

°C

°F

HM-S4-60

60

19

20.3

7.6

54

15

8

115 

250 

330 

80

176

HM-S4-75

75

21

25

9.4

66

18

10

163 

360 

630 

80

176

HM-S4-90

90

21

25

9.4

66

18

10

340 

750 

900 

80

176
1. The rated pulling force is tested on the test condition of magnet surface attracted on the 1.5cm thick A3 high quality flat steel and then pulling via vertical direction to the steel surface at a uniform speed with the profession test equipment in the laboratory. Because your actual usage condition is different, the actual pulling force is lower.
2. Danger! Keep it far away from pacemakers, electronic products and children. Gloves are highly recommended to wear when you use it.
3. Make sure the fishing magnet works lower than 80 C / 176 F. If you need higher temperature working application, please tell us, and then we may customize the fishing magnets for you.
---
Previous:
Double Sided Fishing Magnet
Next:
NdFeB Countersunk Magnet
---