Magnetic Name Badge
Product Detail
Product Tags
The magnetic name badge is composed of two parts. The outer part is nickel-plated steel with double-side pressure-sensitive foam tape attached. The inner part can be plastic material or nickel-plated steel with two or three of small but strong Neodymium magnets assembled. The Neodymium magnet is a very powerful permanent magnet, so the magnetic force will not weaken, and then the magnetic badge can be used many times in long time.
When you are planning to use the name badge fastener, you only need to peel the covering from the adhesive tape and attach it to your name badge, business card, or anything else you want to attach to your clothing. Put the outer part on the outside of your clothing, and then place the inner part inside of your clothing to attract the outer parts. The Neodymium magnet can supply very strong force and can go through very thick cloth, and then the two parts can clip your clothing very tightly. Because no pin is used, you don't need to worry expensive clothing damaged by the magnetic name tag.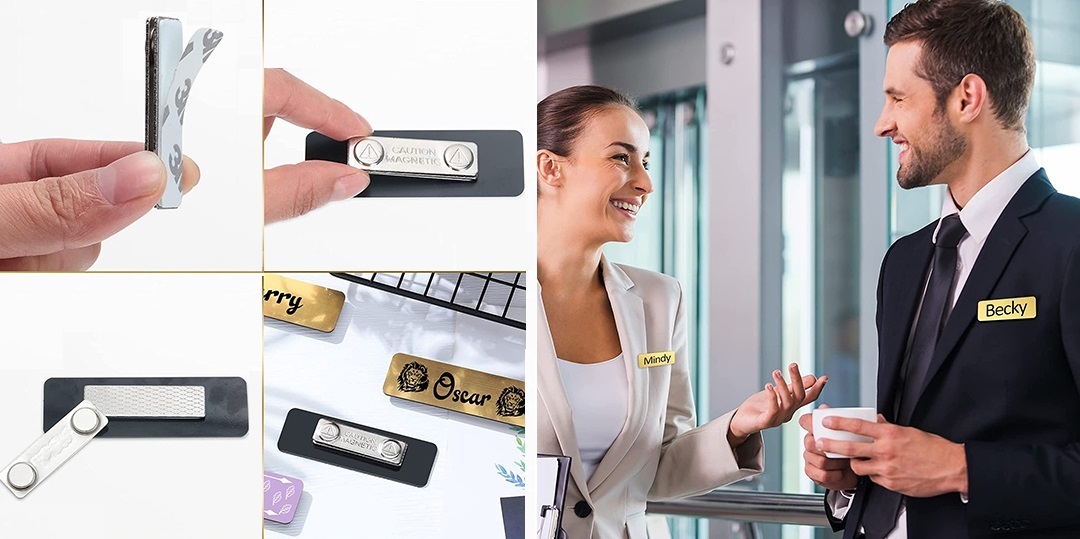 1. Safe: The pin might hurt you by mistake, but magnet cannot hurt you.
2. Damage: Pin or clip will cause holes or other damage to your skin, or expensive clothing, but magnet cannot generate damage.
3. Easy: Magnetic name badge is easy to change and use for long time.
4. Cost: Magnetic name badge can be use over and over, and then it will save total cost in long term.
---
Previous:
Colorful Magnetic Push Pin
---