Metal Push Pin Magnet
Product Detail
Product Tags
Although the structure seems simple, the small and light-weight pushpin magnet has a classic design that allows for easy placement, removal, and control. It consists of two parts: NdFeB (Neodymium) disc magnet and steel housing. The appropriate size and grade of Neodymium magnet is carefully designed and chosen so to meet required holding force for the application. The steel or metal housing encases and protects NdFeB disc magnet from chipping or damaging outside and concentrates magnetic lines to one Pole N or S surface with stronger force.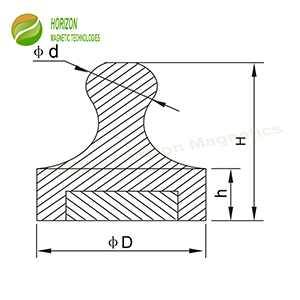 1. Easy: The size and weight is small, and the curved shape of the handle makes it easy to grip and move.
2. Durable: The steel housing and NiCuNi coated permanent magnet encased is durable to use for a long time and then save cost in long term.
3. Strong: The powerful Neodymium magnet can generate higher holding force than traditional pins.
4. Safe: The metal push pin magnet fastens papers, documents or items without leaving any holes through objects or dirty, or hurting skins.
5. Pretty: The steel housing with designed shape, smooth and shiny Nickel or Gold appearance looks beautiful and delicate.
6. Widely use: It can hold papers, notes, photos on the whiteboards, fridges for steel fridge magnet, bulletin boards, magnetic maps and other magnetic surfaces or work as hangers such as for masks during Covid-19 coronavirus pandemic time, key holders or kitchen utensils organizers.
1. Housing material: steel

2. Magnet material: high-end NdFeB magnet with strong enough force
3. Coating: two options of Nickel and Gold for smooth and shiny appearance. Coating with layers ensures excellent corrosion resistance in daily usage
4. Shape and size: more options referring to drawing and size specification
1. The most important part, Neodymium magnet is produced by us, which can ensure the quality and cost of metal push pin magnet under control.
2. In-house production capability especially fabrication ensures customized Neodymium magnetic pushpin magnets and one-stop shopping of comprehensive magnetic products.
3. Over ten-year experience and lots of finished products in inventory ensures a just-in-time shipment.
Part Number

D

H

d

h

Quantity of A4 Held on Whiteboard

Net Weight 

Maximum Operating Temperature

mm

mm

mm

mm

pcs

g

°C

°F

HM-MP-12

12

16

9

5

12

9

80

176

HM-MP-16

16

20

12

5

16


15

80

176

HM-MP-20

20

25

15

7

19

30

80

176

HM-MP-25

25

30

18

7

23

53


80

176
---
Previous:
Neodymium Tube Magnet
Next:
---